Ossetia
Title
The Land Behind the Stars
Motto
"Before Man, Behind the Stars."
Demonym
Ossetian
Allegiance
Centauri Confederacy
Capital
Dyrgas Enclave & Palace
Largest City
Dyrgastad
Governing Official
Governor: Chaim Garal, Archduke: Maximilien venne Bannikberg
Population
1.2 Billion
World
History & Demographics
The history of the system now known as Ossetia is sketchy at best. It is known that it was among the first colonized by Eduard vai Centauri's forces, but beyond that, little survives except the names of the first archdukes. What is known, is that Ossetia was colonized by a mix of Europeans, Japanese, and various North African ethnic groups. Making Ossetia something of an ethnic and cultural hotpot from the very start. Today's average Ossetian can range the gamut in apperance in nearly every way except height. Ossetians are universally tall, due to the planet's lower gravity than most inhabited worlds, while the effect is not extremely noticable, it does affect the creatures, including humans, a good deal. Humans born on Ossetia will tend toward the tall, a full grown Ossetian less than six feet in height in nearly unheard of, and Ossetians that reach seven feet are rare but reported. Ossetian weight, on the other hand, shows no significant deviances from the Human norm elsewhere, the reason for this is not known.

Ossetia consists of two closely orbiting planets, Ossetia itself, and Berzegette, also known as South Ossetia. The two planets are in a binary orbit with each other, existing just far enough apart that the impact on the other planet is minimal, mostly relating to tides and weather patterns.
Climate
Climate in the Ossetian system varies widely. But on Ossetia itself as well as Berzegette, it tends to be quite hot and humid, in the latter of those two planets, however, a winter season does exist and is quite pronounced in the more mountainous regions.

Ossetia has two large oceans. The Kindal and the Reem. However, due to the planet's spiderweb-like continent structure, they do not act as barriers and are thought of more as large, salty, warm lakes. Beaches exist, mostly along the Reem, and range from popular tourist destinations to strange and alien-looking coastal salt flats. Due to the planet's bizarre continent composition, it also has a rather odd ocean-related feature.

The oceans, rather than feeding into rivers, often simply wash over large parts of the land at high tide, periodically connecting and disconnecting land bridges. These features are known as Washes and take place planetwide, after centuries of habitation, Ossetians have learned to adapt to Washes, and even use them to their advantage (some are harvested for powering small power plants, for instance).

The only thing separating the two oceans is the one strip of land thick enough to separate them even when they wash. And that strip of land is Dyrgas, what is often referred to as Ossetia's only true continent. It is also the location of the sprawling metropolis of Dyrgastad, and the capital (which is legally, a distinct city) The Dyrgas Enclave.

The areas that are seperated by washes are often referred to as "Islands" and it is these (and groups of smaller ones) that make up Ossetia's provinces.
Dyrgastad
Dyrgastad, the largest city in the Ossetian System, is modeled after classical depictions of Atlantis. It is a ringed city, with the rings being separated by artificial moat-like structures, in the center, the Palacial Tower (The Dyrgas Enclave, legally a distinct city) rises above the entire city.
Culture
Ossetian culture is built on several central concepts and their opposites. Referred to as the Central Pillars, most sprang up as expansions upon wise proverbs.

Negh-Hemmet- "Negh-Hemmet" is the name of the first of these, and the name comes from an Ossetian proverb, which translated, states "Good friends are like trees whose seeds are planted close enough together that, as the trees grow, they entwine and shape each other." From this simple proverb, we get the concept of "Negh-Hemmet". A Negh-Hemmet is a bond between two or more people that is considered a step up from friendship. It is considered equal to love, but non-romantic. Negh-Hemmet are groups of people who have been friends for so long that they have inevitably shaped each other's personalities, and been through so much that their "souls" are considered indestructibly connected. The formation of Negh-Hemmet is actively encouraged by Ossetian culture, and it is not likely a coincidence that because of this, Ossetians tend to be profoundly loyal to their friends, and perhaps just as interesting, depression is almost unheard of among Ossetians. When it comes up, the support of one's Negh-Hemmet is usually enough to get one through it, even if it takes time. In fact, a common bit of derivative folk wisdom states that the only thing that can break a Negh-Hemmet's mental healing powers is the death of one of the Negh-Hemmet.

Unjar-Hemmet- The Unjar-Hemmet is the opposite of a Negh-Hemmet. Two people who hate each other so much, that they have inevitably caused each other a great deal of pain, and shaped each other in the process. Ridding oneself of one's Unjar-Hemmet, either by befriending them, or outright killing them (the former is far more common in this day and age), is usually considered one of the crowning achievements of an Ossetian's life.

Treed- Treed can be roughly translated (as a concept) to "tradition keeping and making". Ossetians generally believe traditions to be more than simple vestiges of the past, and creating ritual for the sake of ritual is not only tolerated but encouraged. Likewise new "traditions" are created all the time, some fizzle out, and some stay for a long time. This almost pop culture understanding of the "tradition" makes Ossetian culture frustrating for some, especially when combined with the overt seriousness of other parts thereof (see below)

Solmat- Solmat, or "solemnity" is the concept of taking things that shouldn't be taken seriously very seriously. The idea, is that this brings forth learning experiences. It is critical to note this is not advocated as a lifestyle, merely as an experiment of sorts that one will sometimes engage in.
Music
Ossetians are noted for wide and eclectic taste in music, documenting what kinds of music Ossetians enjoy would be an impossible task, however, several forms of music have sprung up among Ossetians, of which, Dhukra and Dukan are the most notable.
Cuisine
Ossetian cuisine has a single defining characteristic. It is salty, very much so.

Ossetians are thought to be the single largest consumers of salt in the galaxy, Federation or Centauri. Salt was a favorite flavoring spice amongst early Ossetian settlers, and as generations came and went, the amount of it in the food increased drastically. Almost all Ossetian food incorporates salt in some way. One of the most popular dishes in the system is "Mummified Chicken", a type of fried chicken that, after deep-frying and breading, is coated in a salt and spice paste. It is widely regarded as delicious, however, it is also among the least healthy foods in the galaxy.

The Ossetian predisposition towards salty foods gives them unusually sensitive taste buds in regards to sweetness, most Ossetians simply cannot tolerate foods that are too sweet, such as cakes, chocolates, puddings, and jams.
Of notable exception to this rule is the almost gourmet art of Ossetian sodamaking. Ossetian sodas (notably, natural mild fruit flavors) are renowned throghought the Confederacy for their taste and texture.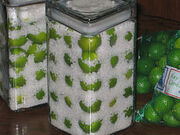 Ossetians also produce a drink known as Chanmuoy, a direct descendant of the Vietnamese drink of Chanh-muoi. It was adopted from the minority Vietnamese settlers on Ossetia, and has since become very popular. The drink is also known as "salty limeade" and is made from pickled limes.
Sports
Ossetians are not a particularly sporty people, however, martial arts are pervasive, in particular, the homegrown art of Kuyuu Karai. Kuyuu Karai is a martial art centering around use of the fists and elbows as natural weapons. Notable for the reason that its users tend to be both hard-hitting and very, very quick. This stems from the training method Kuyuu Karai employs, which involves wearing cumbersome metal gauntlets, and learning to hit at a "target speed". The target speed is set consistently, but the gauntlets become progressively heavier as training progresses. The end result is the ability of a Kuyuu Karai user to hit extremely fast, and usually, extremely hard.

Kuyuu Karai would likely be a dead art if not for the patronage of one Lord Herrig ven Bannikberg, who was both a blackbelt in, and an extreme supporter of the art. He established schools throughout his home system of Ossetia-Berzegette (ruled by his elder brother Armand) and it became both extremely popular, and the official traditional art of the ven (now venne) Bannikberg noble house.

Also of note is the rather even distribution of fighters. Both men and women can and do excel at the artform. Notable practitioners include heir to the Ossetian throne, Lorraine venne Bannikberg, Bartholomew Tolkien, and Ossetia-Berzegettian governor Chaim Garal.
Religions
Ossetian Traditionalism - An offshoot of Christianity and by far the most practiced religion in the system. This particular descendant of the Christfaith de-emphasizes the role of Jesus himself, here he is seen as an embodiment, not of an Abrahamic God, but a naturistic "All". "All" flows through everything and as such, Ossetian Traditionalists can somewhat accurately be said to worship everything, giving the faith a Nature Religion feel to it. Ossetian Traditionalists are heavy practitioners of meditation, and most are expected to set aside at least three hours weekly for inner contemplation and mental preparation of any tasks that lay before them.
Centauri Christianity - Fairly self-explanatory, umbrella term encompassing any traditional Christian faith in the Centuari Empire.
Jewish - Ossetian Jews are some of the last of their kind, only roughly 30,000 practitioners remain. As a result of humanity's colonization of space, Orthodox Judaism, with its strong ties to the former Terran nation known as Israel, is almost completely extinct. However, these highly devoted few that still remain are just that, and Ossetian Judaism has experienced a resurgence in relevance since the election of Chaim Garal to the position of Governor of Ossetia-Berzegette.
Kusk - Kusk is a religion of uncertain origin, and about which little is known. It is a mystery cult, meaning that specific information is only available to members of the religion, who are reluctant to share it with outsiders. What is known is that Kusk is a worship, essentially, of space and the universe itself. Distinct from Ossetian Traditionalism in that there is not thought to be a spiritual aspect but rather that the universe itself is a spiritual, sentient, God.
Notable Ossetians